Our highly experienced Naval and Nuclear Products Team meticulously plans all manufacturing processes from inception to inspection, ensuring highly efficient work flow and a high quality end product.  Our team includes Prime Contractor Supplier Delegated Inspectors, exemplifying our ability to manufacture to the most demanding standards that exist in the defense industry.
Quality Precision Manufacturing
Manufacturing Expertise Is Here For You
Compliance & Certifications
Small Business
AS9100:2016 Certified by NQA

ISO 9001:2015 Certified by NQA
DFARS Compliant
ITAR Registered
NIST SP800-171 Compliant
JCP Certified
Mercury Free, REACH, RoHS Compliant Facility

EB-2678 Approved Level I Supplier (EB and NNS)

MIL-I-452028A
MIL-STD-45662A
Conflict Free Mineral Procurement

AS9100:2016 Certified by NQA
Our AS9100:2016 Certification demonstrates our commitment to quality craftsmanship and service.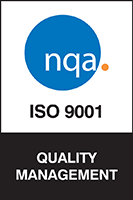 ISO 9001:2015 Certified by NQA
We have been an ISO 9001 facility since 1995. ISO 9001:2015 guides our work processes at every level. We are dedicated to continuous quality improvement.
Military Standards & Specificatons

Guill Tool Precision Manufacturing Inspection and Production Procedures are reviewed and inspected by major customers including:
General Dynamics
Electric Boat Division
Northrop Grumman Shipbuilding
Newport News
Naval Inventory Control Point
Mechanicsburg
National Quality Assurance, USA
We conducts regular audits and surveillances of existing Quality Control procedures in order to ensure total compliance with
ISO 9001, MIL-I-45208A, MIL-STD-45662A, customer established standards and other applicable MIL-SPEC & STD requirements
Nikon MM-40
Measuring Microscope
Hexagon One CMM
Axis Capacity
X=25″, Y=36″, Z=20″
Brown & Sharp Tessa Microhite 600
Height Gauge – 24″ Height Capacity
Brown & Sharp Hite-Tronic
Height Gauge – 36″ Height Capacity
Taylor Hobson
Profilometer Surtronic 3
Surface Finish Gauge
Electronic Height Gages
Granite Surface Plates
Optical Comparators
Rockwell Hardness Testers
Responsive Service And Competitive Pricing
Practices, Procedures & Assets
We are proud to call attention to the following practices, procedures and assets:
Goal: Our goal is to manufacture affordable products while adhering to Continuous Improvement quality principles
Qualty Control: We employ an in-house quality control staff.
Cutomer Service: We possess an unrivaled Customer Service Team.
Certifications: We have held ISO 9001 Registered since 1995, and commonly manufacture in accordance with a variety of military standards and specifications including, but not limited to MIL-I-45208A and MIL-STD-45662A.
Employees: Our employees have an average of 25 years of experience.
Customers: We enjoy close relationships with our long-term customers, and work tirelessly to establish lasting relationships with our new clients.

R-TOC: We are dedicated to Reducing Total Ownership Cost (R-TOC).
Quality Precision Manufacturing
It's not easy to find companies who offer a complete customer service package.  It's difficult for defense component manufacturers to focus on producing a quality product, offer excellent customer service and adhere to strict military standards, all while keeping costs down for their customers. 
We at Guill have made quality, service and progressive capabilities all equal priorities in our process.
You Can Trust Us For Punctual, Reliable Deliveries